Review: Jeremy Tinder mini-comics
At last year's Alternative Press Expo (APE), one of my favorite experiences was going to Jeremy Tinder's table. It was the first one I hit, right inside the door and up the stairs, and I picked up one of his mini-comics and started reading. It was a short one, as all his comics are, and I loved it. I ended up getting, if I remember right, six mini-comics and a sketch of Blanka from Street Fighter II for five bucks. Nice!

This year, Tinder had upgraded. All his comics were two bucks, and while they weren't any longer, they were printed with better cover stock. Behind him, mounted on the wall, were 50-some 4" x 6" paintings he had made especially for the show. The package deal this time around was $25 for all ten comics and a painting, plus he threw in a sketch of Mario riding Yoshi. It was the most money I dropped at a single table this year, and now I wanna talk about the great stuff I got for my hard-earned dough. Here are some samples of his paintings - I nabbed the one on the bottom right.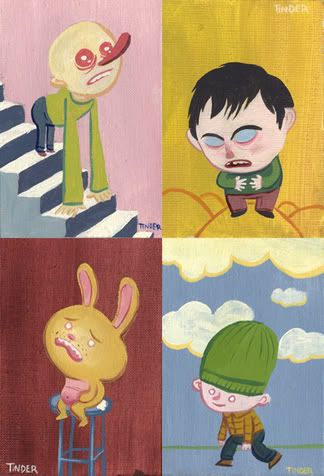 A word about Tinder's style before I go book-by-book: his comics are generally 5 to 10 pages, drawn and written in a simple, crude style that should appeal to all the folks who tell me Craig Thompson and James Kochalka are great comics artists. While I've been entertained by Goodbye, Chunky Rice and Monkey vs. Robot, I think this style is best suited to the distilled whiskey shots Tinder provides. You can only play the crude-n-cute card for so long at a time before it begins to feel like an affectation, and Tinder strikes a perfect pitch that always leaves me both satisfied and hungry for more – and where Thompson and Kochalka both have a "deeper meaning" thing going on in their long-form books, these comics are lighter and funnier, a bit like Jeffrey Brown's Miniature Sulk, which I recently reviewed here, and the moments of insight are more low key. While Tinder plays in an aesthetic sandbox similar to the folks I've mentioned, he definitely has his own voice, and it's funny, sweet and pretty bizarre.

A Very Special Christmas Comic 2 is a good example; it's the sequel to last year's holiday Shaq adventure, though we go Shaqless this time around and instead get a zombie Santa. That's right, a couple of kids find Santa dead in an alley and magically bring him to life. The result is sort of a creepy twist on the Frosty The Snowman story, and the ending made me cringe, laugh and smile in a matter of moments. Loved this.

Helmet Kid is about a young boy putting on a metal helmet and fighting crime with Kraft singles in his pockets. He's a smartass and a doofus, and the dialogue works really well in this one. Funny as hell.

Shawn is basically a visual gag about an office employee who looks like Pac Man. Funny, quick read.

Rotten Eggs is one of those classic Kids At War In The Neighborhood stories. Tinder has a great grasp on the meaningless rage of children in groups, and this was both funny and oddly insightful without being precious.

Robots Don't Say "I Love You" is a savage scene between a robot and his girlfriend. This was probably the meanest Tinder comic I've read, but it works (and cracks me up) because it's completely ridiculous watching a human woman in a "relationship fight" with a robot.

Creepfolio: A Portfolio of Scary Drawings is exactly what it sounds like; it's not my favorite, because I really enjoy Tinder's writing and this is strictly an art piece, but these are indeed creepy designs and the monstrous dude in the Lindsay Lohan shirt is a classic.

4 More Years probably displays pretty accurately what last year's election was like for a lot of people, as a group of friends sit on the couch watching the television results and cursing. I cringed at the start, as I'm generally phobic of political humor (which I find usually has no sense of humor about itself), but Tinder pulls it off with another absurd robot moment that had me laughing out loud.

What Do We Do Next? is a clever bit of self-reference, as this comic is the result of an experiment Tinder conducted with a class of high school students he teaches. Its basically a jam comic, with Tinder kicking it off with the first two pages and four of his students contributing pages that pick up where the last left off. This has limited success for me as a reader, because while some of the students' work is clever and funny, some of it is just too crude to be clear, and one of them doesn't seem to speak English very well. That said – how awesome is this? Jesus, I wish I'd gone to a high school where they did stuff this cool. I asked Tinder about it at APE and he said the school basically lets him teach however he wants to; hot damn!

Finally, Andy Saturday and His Dear Friend Jim in: Love/Hate is the most heartwarming of the bunch, and the most likely to appeal to those Thompson/Kochalka fans I was talking about earlier. It's the longest story here and follows two friends through a day of misunderstandings (both angry and harmless) and realizations. None of the realizations are completely accurate, and at the end neither one of them knows what actually happened, but the resolution doesn't suffer as a result – instead, it feels more real and resonant. It's rare that two people completely understand one another, but that doesn't have to stand in the way of friendship. This was a sweetheart of a story, perhaps a little too saccharine for some, but in the context of the rest of these comics I thought it capped everything off really well.

Tinder's promised me he'll be back at APE again next year, and I can't wait to see what he'll have for me. I highly recommend you take the time to track him down yourself and see if these don't appeal to you as much as they do to me. In the meantime, you can check out his website at http://www.livejournal.com/users/jeremytinder/.